UENO LCP® is a thermoplastic polymer developed through unique R&D by Ueno Fine Chemicals Industry, Ltd., and based on our strengths and know-how as a global manufacturer of monomers for liquid crystal polymers.
UENO LCP® is a flame-resistant, environmental-friendly molding material. We respond to a wide range of customer needs with various type of LCP grades having properties such as high-flowability, heat-resistance, high-strength and general-purpose types.
What are LCPs?
Liquid crystal polymers are used as key components in a wide range of applications, including automobiles and consumer electronics/home appliance products such as smartphones, PCs and air conditioners. LCPs are one of typical high-performance materials generally called super engineering plastics.
LCPs have various unique features such as high heat-resistance, excellent moldability and more. The following diagram illustrates the features and characteristics of LCPs, and the reasons why they have come to the fore.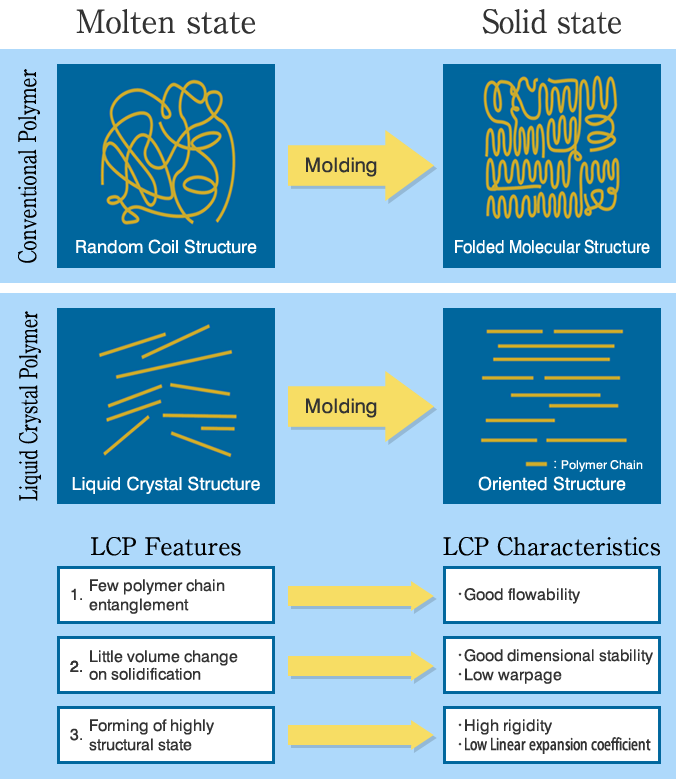 Features of LCP(Liquid Crystal Polymer)
Has a rigid, rod-like structure.
Different from soft string-shaped polymers, there are few entanglements of polymer in the molten state, and therefore LCPs has excellent flowability and high orientation in the direction of flow.
As the polymers solidify along the direction of flow on molding, the smaller dimension change (low shrinkage and warpage) of the molded items have achieved.
Those properties above mentioned, such as the high orientation and solidification of the molecules along the direction of flow, develop the higher anisotropy to the molded articles.
UENO LCP® Grade Structures
Making use of our ingenuity and strengths as a monomer manufacturer, we have crafted molecular designs that can be adapted to various prescribed properties, and had a wide range of base resin lineup such as the low-melting-point LCP (8100 Series) and the high heat-resistant LCP (6000 Series). We also have a variety of compound grades, made from our LCP resins and fillers such as glass fiber and minerals, and capable of being applied to wide variety of applications.
Typical Molecular Structure of LCP and its Monomers

A Wide Variety of Base Polymers: From Low Melting Point to Highly Heat-Resistant Types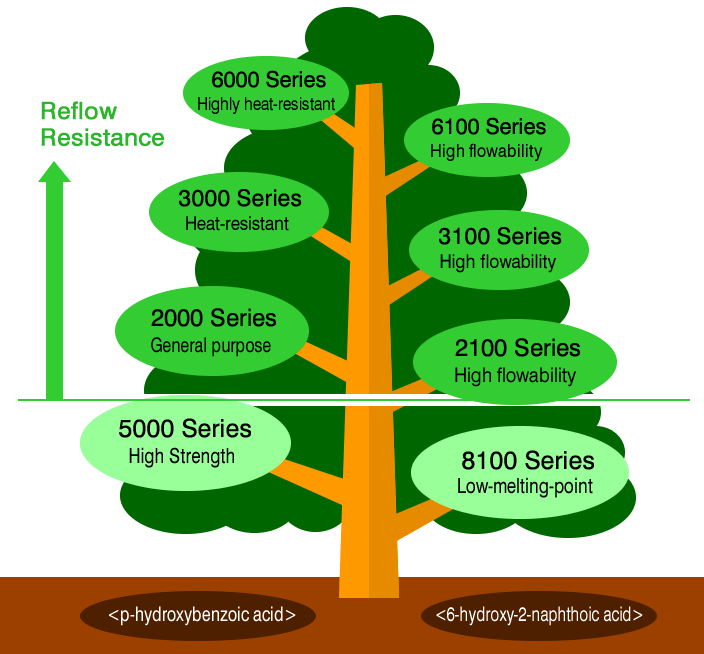 ■Material Benefit Summary
| Property | Benefits |
| --- | --- |
| 1. Moldability | Excellent flow in thin wall sections with minimal flash results in greater productivity |
| 2. Dimensional stability | Low linear expansion coefficient, minimal molding distortion and low warpage result in parts more consistently to specification |
| 3. Temperature resistance | Suitable to a wide variety of soldering conditions including lead-free solder reflow results in higher performance parts |
| 4. Low gas generation | Extremely low gas generation is more environmental-friendly and suitable for specialized low-gas applications |
| 5. Damping properties | Unique combination of excellent damping and high modulus properties for performance electro-mechanical applications |
| 6. Electric properties | Excellent electric breakdown, low electric constant and tanδ is ideal for electrical connectors |
| 7. Dielectrics properties | Minimal loss tangent in the GHz band |
| 8. Flame resistance | UL-94 V-0 rating without flame retardant required for electrical applications |
| 9. Solvent resistance | Resistant to standard solvents at room temperature |
| 10. Gas barrier properties | Extremely difficult to be permeated by water vapor and other gas |
Technical Support System for UENO LCP®
By making use of our strength as a worldwide leader of LCP monomers and polymer, we have established a special support system in which our technical development, production and sales in a body can quickly respond to a variety of requests.With developments to a variety of applications using this superior technological support, Ueno LCP® is recognized all over the world especially in electrical and electronic fields.
Furthermore, we are trying our hand aggressively at expanding our business on alloys with, or as modifiers of, other resins in order to bring out superior potential properties of LCP.