What Ueno's Technology
Can Do for Global Well-being
Ueno continues to advance toward globalization of its activities with the aim of maintaining reliable supply of products that offer higher quality and better prices, based on the company's unique basic technologies and innovative manufacturing techniques.
Core Technology
UENO Process
The Kolbe-Schmitt reaction is a method of synthesizing aromatic hydroxycarboxylic acids via the carboxylation of potassium phenolate with carbon dioxide under pressure.

About a century after discovery of the synthesis method, Ryuzo Ueno, Ph. D., previous president of Ueno Fine Chemicals Industry, Ltd., identified the reaction mechanism. This knowledge sparked our quest to realize industrial use of aromatic hydroxycarboxylic acids and their derivatives. In due course, we made it possible to manufacture these compounds in a continuous, efficient manner by employing a gas/liquid phase Kolbe-Schmitt reaction in place of the conventional gas/solid phase Kolbe-Schmitt reaction. Today, we call this synthesis method the "Ueno process," and it comprises our core technology.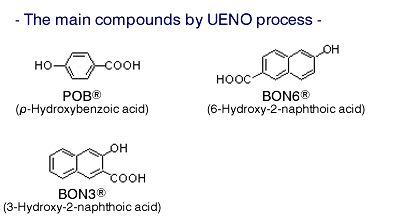 Major products manufactured using the Ueno process include POB® and BON6®, which are used in everyday essentials as additives for cosmetics, pharmaceuticals, foodstuffs and resins, and raw materials for liquid crystal polymers.
*For more detailed examples of derivatives, please select BON6®, POB®, and click on the respective icon to download a PDF document.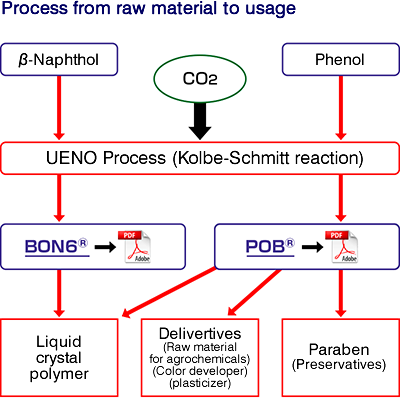 Exploring Possibilities of the Kolbe-Schmitt Reaction
The Ueno process is a the distinguished and original technology that was developed through tireless research and an accumulation of manufacturing know-how in many years. Products manufactured using the Ueno process include: POB®, esters of POB® Paraben, etc. used as additives for cosmetics and pharmaceuticals; and POB-HR and BON6®, used as raw materials (monomers) for liquid crystal polymer as engineering plastics. These products are widely used to meet the customer's needs in the market. However, this success is not the end of our quest for new possibilities.
Our chemical products are indispensable as raw materials for products that provide conveniences for everyday living. Not only do we maintain a steady and reliable supply of these products, but we also strive to make a social contribution by improving their quality and productivity. And, we are committed to conducting research and development for the creation of new products and new applications. Our challenge is to pursue the further potential of the Ueno process product based on Kolbe-Schmitt reaction, which will never end.